DLC Employees Celebrate Holiday Season by Giving Back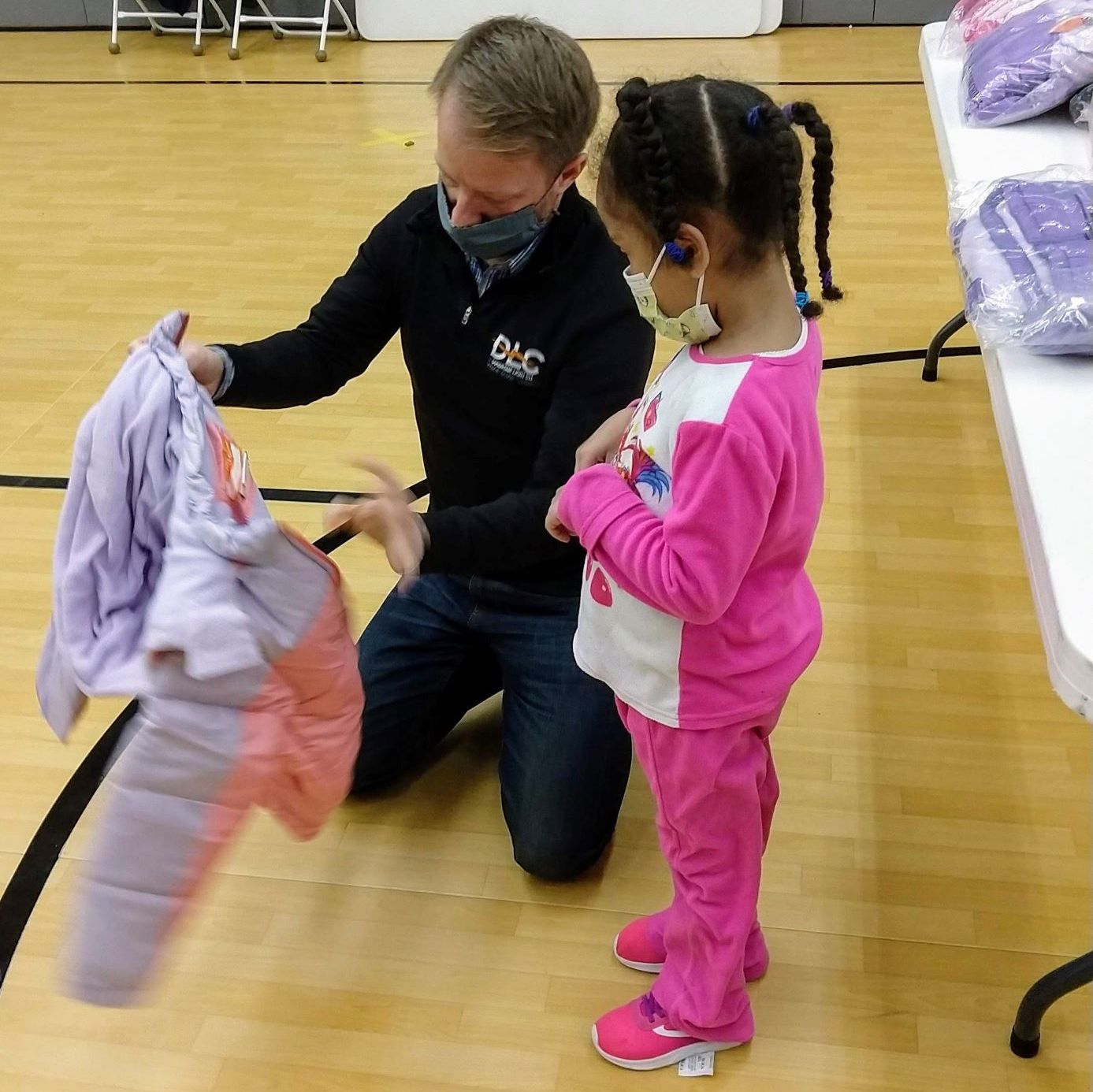 January 4, 2022
Despite the challenges we collectively faced last year, our employees never stopped showing up for our community partners. In 2021, Duquesne Light Company (DLC) employees volunteered more than 3,200 hours for projects across Allegheny and Beaver counties, including teaming with organizations for causes throughout southwestern Pennsylvania that are close to our employees homes and hearts.
We're grateful to our employees for their enthusiastic support for our customers and our longstanding partnerships with community groups across the DLC service territory. Below, we've highlighted five events from November and December that exemplify our employees' dedication to our customers through volunteerism. 
Veterans BERG Leads Volunteer Event with Project LOVE Coalition 
On Nov. 5 members from A-VETS, DLC's Veterans Business Employee Resource Group (BERG), volunteered with Project LOVE Coalition's Peace and Friendship Farm in the Hill District. ​ 
Project LOVE supports veterans through a variety of programs, including community building, workforce development and housing support. 
A-VETS members began installation of a high tunnel to extend the farm's growing season. DLC also provided a grant to Project LOVE Coalition this year to support the high tunnel and the creation of an outdoor community event and movie space. ​ 
"Duquesne Light Company's veteran's group came to show support in the Hill District neighborhood. We truly appreciated their assistance in starting the high tunnel installation," Kent Bey, president of Project LOVE, said of the volunteer support. ​ 
Volunteers Support Light of Life's Thanksgiving Dinner Box Event
As part of our annual efforts to support our community partners during the holiday season, DLC partnered with WPXI-TV's 11 Cares program to collect food donations and raise funds for Light of Life Rescue Mission's Thanksgiving Boxes program.
On Nov. 23, six DLC employees volunteered with other 11Cares partners at World Vision in Sewickley to pack dinner boxes with the items received during the 11Cares donation drive. 
Volunteers helped pack dinner boxes for 1,750 families in need of support during the Thanksgiving holiday, said Philip Spina, Light of Life's capital campaign manager, said. Videos of our employees in action are available on the 11Cares website.
DLC Sponsors Hosanna House's Celebration of Hope & Holiday Giveaway ​ ​ 
On Dec. 10, DLC sponsored Hosanna House's Celebration of Hope & Holiday Giveaway event in Wilkinsburg.
In addition to a grant, DLC employees supported the donation drive by purchasing winter accessories, and eight employees volunteered on-site to set up the event and distribute items.
Overall, 300 boxes of nonperishable food along with chicken and turkey, holiday gifts, toys and clothes were distributed to families served by Hosanna House. Children also had the opportunity to take photos with Santa. 
"Duquesne Light fulfilled the charge," said Leon Haynes, CEO of Light of Life. "It takes many hands to make a heavy load light. We are so appreciative of (their) support during this effort. It was a much needed service at such a critical time!" ​ 
This is the second year Hosanna House has held the holiday giveaway event to support the increased needs of during the COVID-19 pandemic.
Employees Purchase Holiday Gifts for Veteran Patients
One of DLC's holiday traditions is participating in "Presents for Patients," an opportunity for employees to purchase gifts from holiday wish lists from patients staying at the Southwestern Veterans Center.
While this annual volunteer event was put on hold in 2020 due to the pandemic, employees were excited to participate in this annual holiday tradition again last year. On Dec. 26, DLC employees purchased items from the holiday wish lists of 40 former service members staying at the assisted living facility.
Chris Veitch, who supervises therapeutic recreation services at the center, told us that in addition to DLC having "the best-wrapped, nicest gifts," the veterans who receive presents are "overwhelmed with excitement and (are) all smiles."
DLC Partners with Operation Warm for Winter Coat Giveaway
DLC has worked with Operation Warm and the Pittsburgh Fire Fighters for years to provide brand new winter coats for free to Pittsburgh area kids. This year, DLC participated in two giveaway events with these longtime partners.
On Dec. 8, DLC, Operation Warm and the Pittsburgh Fire Fighters were joined by the Larimer Consensus Group and Senator Lindsey Williams' office to distribute 300 coats to kids in Larimer and the surrounding communities.
Later in December, along with our sister company, The Efficiency Network (TEN), DLC and our partners gave out 100 coats in Wilkinsburg with then-state Rep. Ed Gainey (now Mayor of Pittsburgh) and the Wilkinsburg School District.