Celebrating Martin Luther King Day: Remembering His Life, Honoring His Legacy
A message from Duquesne Light Holdings President and CEO Kevin Walker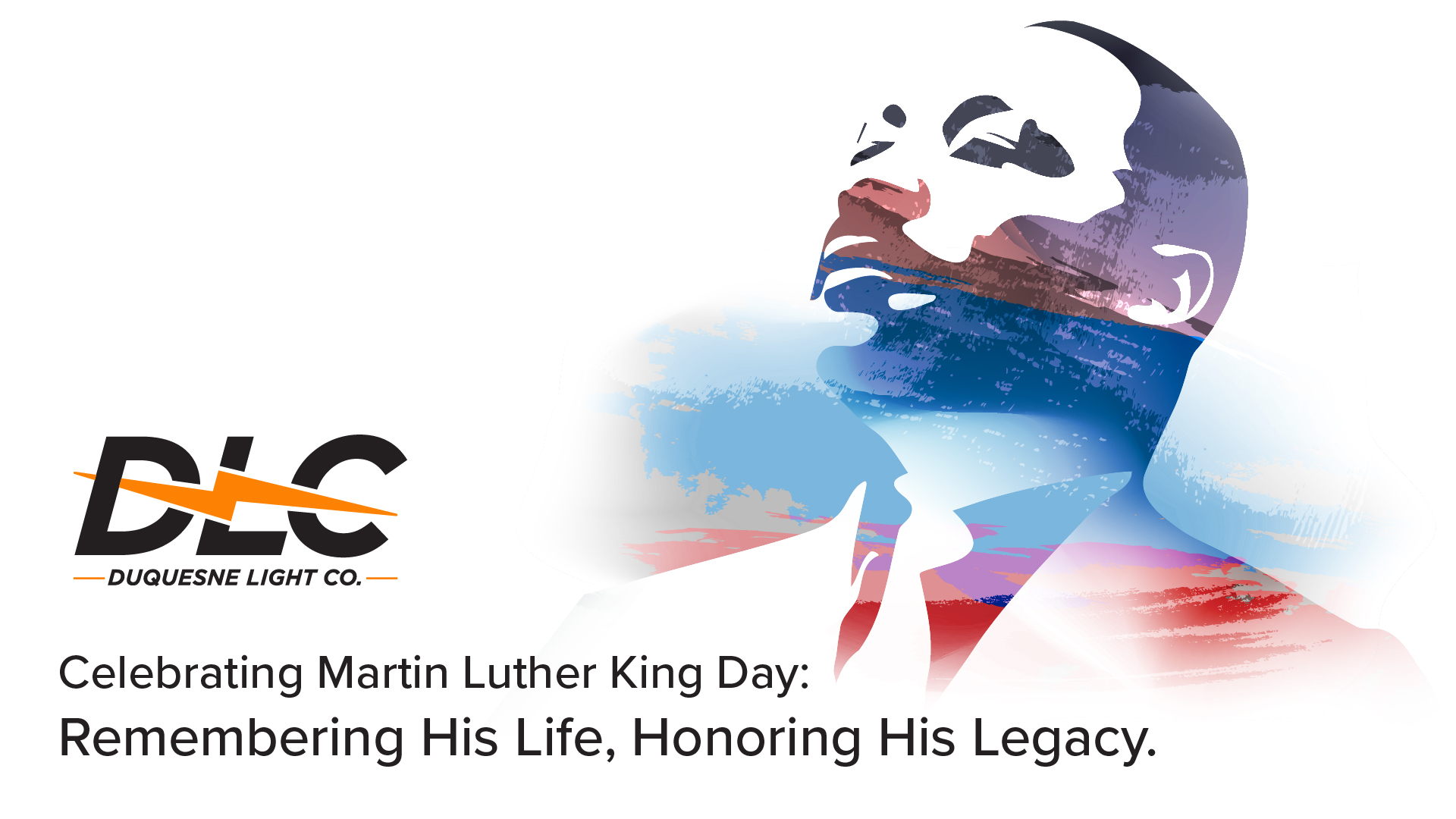 January 14, 2022
A Baptist minister and social rights activist, Dr. Martin Luther King, Jr. was one of the greatest champions of the African American Civil Rights Movement.
Dr. King played a pivotal role in the passage of the Civil Rights Act of 1964 and the Voting Rights Act of 1965, which led to him being awarded the Nobel Peace Prize for his leadership.
The Civil Rights Act banned discrimination in the workforce and public accommodations based on "race, color, religion, sex or national origin." The act helped desegregate schools and outlawed the above factors when making hiring, promoting and firing decisions in the workplace. The Voting Rights Act prohibits racial discrimination in voting, such as poll taxes or literary exams that kept people from voting after the Civil War.
On Monday, Jan. 17, please join me in remembering Dr. Martin Luther King Jr. and honoring the legacy he left behind for us to build upon.
We can celebrate Dr. King's life by acknowledging what he stood for and how his impact has led us to where we are today. His model of social activism to generate positive change is something many across the world still practice today. His words showed us that moving forward isn't an option, but rather an obligation we owe to ourselves and future generations. I find his words "in the end, we will remember not the words of our enemies, but the silence of our friends," to be a particularly moving sentiment that can motivate us in moving forward and seeking equity for those around us. ​ ​ ​
When honoring Dr. King's legacy, we can look to expand our own knowledge on his life and events that motivate the need for change to this day. The below recommendations provide insights about the journey we are still on towards building a better world:
Where Do We Go from Here: Chaos or Community?

Along with being an activist, Dr. King was also an accomplished author. His last book was published in 1967 before his assassination. It focused on advocating for human rights and a sense of hope.

Women of the Movement

Available to watch on ABC and stream on Hulu, this 6-episode series is based on the book Emmett Till: The Murder That Shocked the World. Women of the Movement follows the story of Mamie Till-Mobley and her fight for justice for her murdered son.

When They See Us

Based on the true story of the Central Park Five, teens are wrongly accused of a brutal crime. In 2019, Oprah interviewed the men who were convicted alongside the cast who portrayed their story in When They See Us Now.
On Martin Luther King Day, please try to set aside time to reflect on Dr. King's impact.
The lessons and dreams expressed through his legacy are just as important today as they were during his life and require just as much courage, leadership and urgency – given the forces that are attempting to undo the hard-fought progress we have made towards fulfilling them. We each have the potential to play an integral role in making contributions that will create a better tomorrow. We'll continue to grow, change and learn by valuing each person for their uniqueness, talents and humanity.
As we serve a wide and diverse region, we will continue to take action that sets us on a path to bring about necessary and needed change.