Celebrating Asian American and Pacific Islander Heritage Month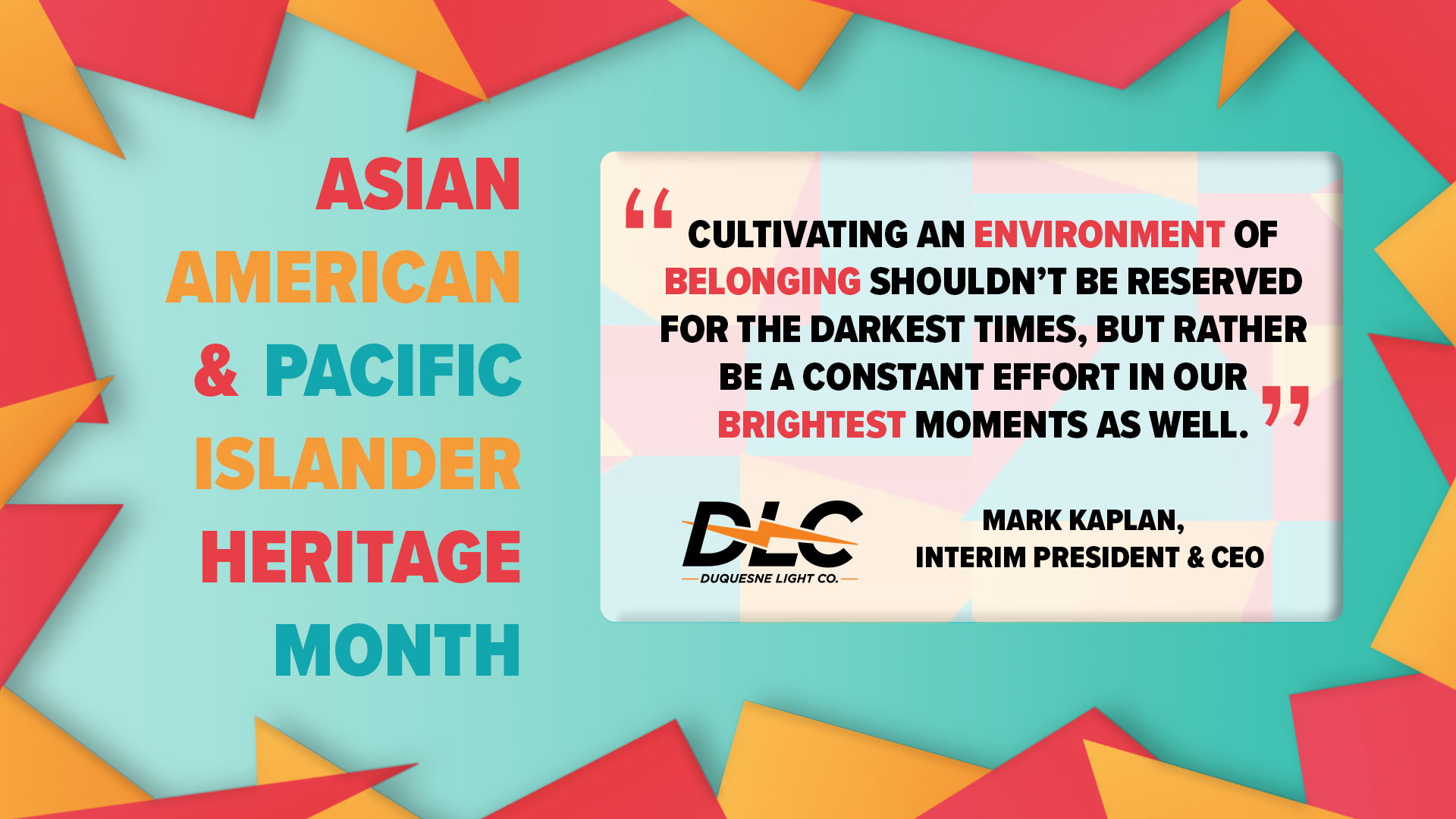 May is Asian American and Pacific Islander (AAPI) Heritage Month, and there hasn't been a more appropriate time to recognize and celebrate the AAPI community for their leadership, perspectives and contributions.
During the COVID-19 pandemic, Asian Americans and Pacific Islanders have served on the frontlines in many critical industries ranging from health care to nonprofits. They've also been subjected to growing acts of violence since the pandemic began last year. A new Pew Research Center survey found that 81 percent of Asian American adults say violence is increasing against them in the U.S. In the same survey, only 32 percent of Asian American adults reported that someone had shown support for them and their racial or ethnic group during the pandemic.
In March, Duquesne Light Company (DLC) expressed our support for the AAPI community after senseless acts of violence reached a tipping point in the Atlanta area. As we continue to denounce this violence and build a sustainable and equitable future, let's remember that cultivating an environment of belonging shouldn't be reserved for the darkest times, but rather be a constant effort in our brightest moments as well. ​
Let's all become more aware of AAPI cultures and the unique viewpoints and influence they bring to our communities. Here are some helpful resources to consider:
Asian Americans:A five-part PBS documentary series showcasing how the AAPI community has made incredible contributions throughout American history
AAPI Frontline: An NBC News feature on the strides Asian Americans and Pacific Islanders have made during the pandemic
The story behind what happened to Pittsburgh's Chinatown
Our Diversity, Equity and Inclusion (DEI) Council at DLC will be leading employees in commemorating AAPI Month. The council will share learning resources, ways to celebrate and a cooking class led Ruchi Singh, regulatory compliance associate.
At DLC, we say we're committed to building a new table together. That includes working to better understand one another and recognizing our differences as being strengths. When we work together, we can create the world we want to live in. ​ ​