Celebrate LGBTQ+ Inclusion and Equity During Pride Month
A message from Kevin Walker, Duquesne Light Company's president and CEO; and Sara Oliver-Carter, chief diversity officer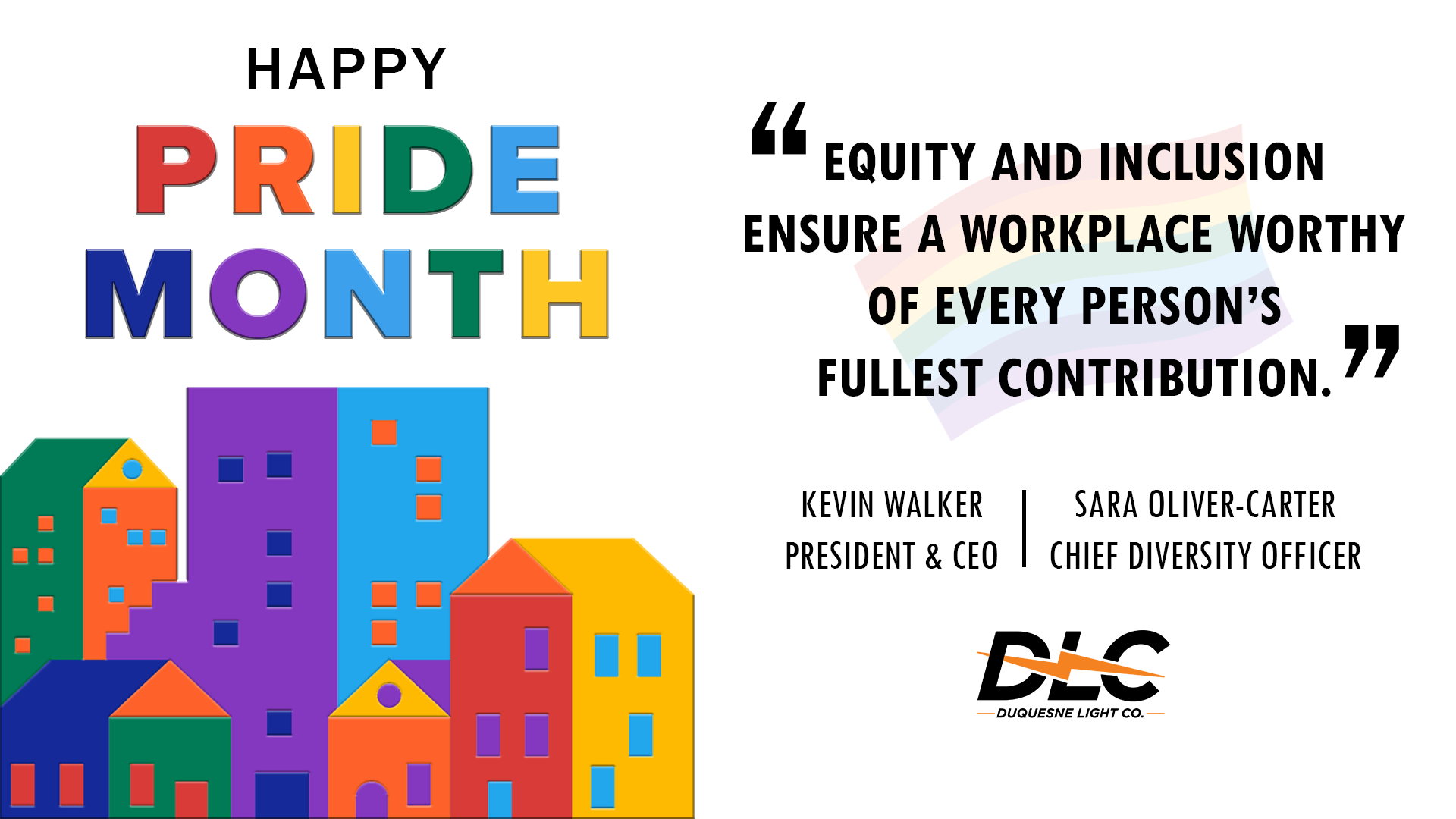 June 2, 2021
Equity and inclusion ensure a workplace worthy of every person's fullest contribution. Such is the environment we strive to create at Duquesne Light Company (DLC).
To that end, please join us as we celebrate Pride Month in support of the lesbian, gay, bisexual, transgender, queer and nonbinary (LGBTQ+) community. We recognize and respect the generations of LGBTQ+ Americans who've challenged discrimination and fought for equity. The first Pride march was held in 1970 to commemorate the Stonewall Riots and Pride month was federally recognized in 2000. Largely led by transgender activists of color such as Marsha P. Johnson and Sylvia Rivera, the riots sparked the LGBTQ+ movement for equity across the country.
This year, more LGBTQ+ voices have risen to local and national prominence. When diverse communities have their own seat at the table to share their unique experiences, we can build a world that recognizes everyone's needs and respects each individual for who they are.
While we celebrate progress, it's important to recognize how far we still have to go. Across the country, the LGBTQ+ community continues to face different challenges, inequities and forms of discrimination. This Pride Month, I encourage us all to learn more about the experiences of other communities and how we can all become better allies and uphold our commitment to equity and inclusion as a company.
At DLC, we're taking steps to become part of the solution. Our Diversity, Equity and Inclusion Council is sponsoring two virtual events for employees this month: Pride Trivia and "Getting to Know Your Neighbors: The LGBTQ+ Community," an event through Persad that that will explore how we can be an informed allies for our friends, family and co-workers. The group is also sharing learning resources, providing cultural messages and highlighting LQBTQ+ employees. ​
Once we can safely gather after the COVID-19 pandemic, we look forward to marching together again in the Pittsburgh Pride parade with the LGBTQ+ community with our friends, family and allies. Until then, we encourage everyone to find opportunities to show our support and our pride.
Let's continue to support one another so everyone feels comfortable, safe and respected for who we are. Our collective efforts will continue to build an accepting, inclusive community for one another.