Black History Month: Spotlight on Dr. Marie Daly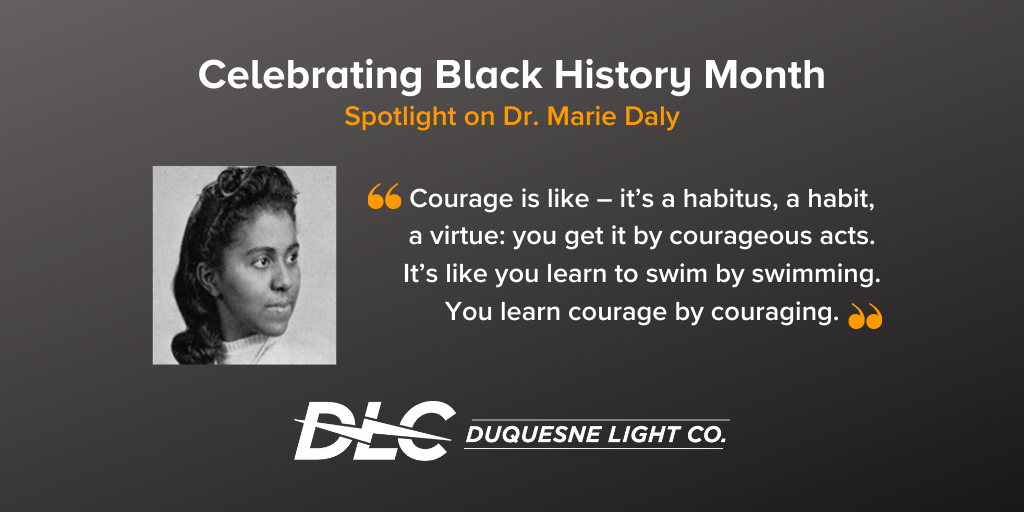 Duquesne Light is recognizing this year's Black History Month by putting a spotlight on leaders in science, technology, engineering, art and math who've been an inspiration to us all. At DLC we're committed to fostering an inclusive workplace and community where we all feel valued, respected and engaged.
Dr. Marie Daly – Biochemist 
April 16, 1921 – Oct. 28, 2003 (age 82)
Marie Daly was an American biochemist, and the first African American woman in the United States to earn a PhD in Chemistry. She made important contributions in four areas of research: the chemistry of histones, protein synthesis, the relationships between cholesterol and hypertension and creatine's uptake by muscle cells. Her research helped shape today's health care standards.
After graduating in 1947, Daly began working closely with Dr. Quentin B. Deming on the causes of heart attacks. Their groundbreaking work, which was later relocated to the Albert Einstein College of Medicine at Yeshiva University in New York, disclosed the relationship between high cholesterol and clogged arteries.
Her innovative findings opened up a new understanding and started a conversation within the medical community about how a person's diet can affect heart health and the circulatory system.
"Courage is like – it's a habitus, a habit, a virtue: you get it by courageous acts. It's like you learn to swim by swimming. You learn courage by couraging." ​ ​ ​ ​ ​ ​ ​ ​ ​ ​ ​ ​ ​ -Dr. Marie M. Daly, American Biochemist