A Message from Duquesne Light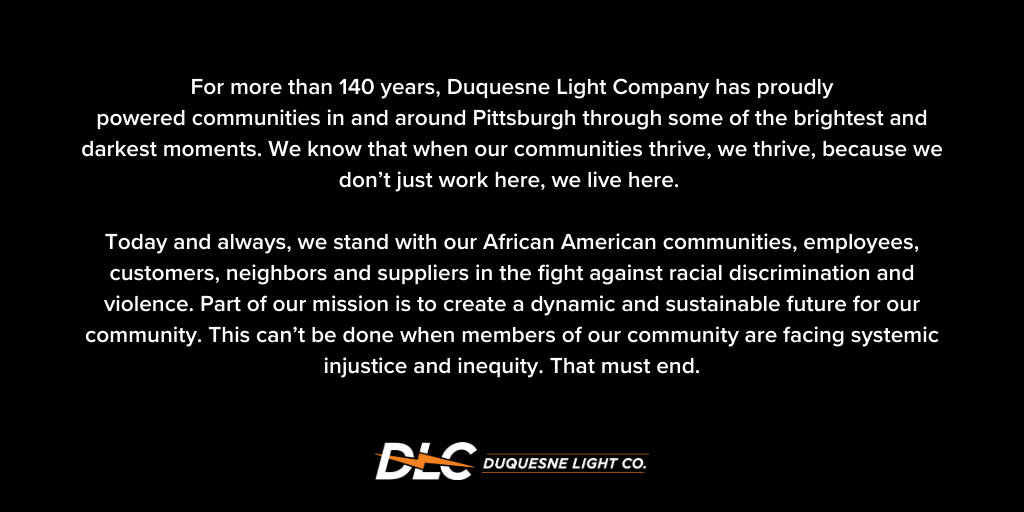 Duquesne Light Company today issued the following statement: 
For more than 140 years, Duquesne Light Company has proudly powered communities in and around Pittsburgh through some of the brightest and darkest moments. We know that when our communities thrive, we thrive, because we don't just work here, we live here.
Today and always, we stand with our African American communities, employees, customers, neighbors and suppliers in the fight against racial discrimination and violence. Part of our mission is to create a dynamic and sustainable future for our community. This can't be done when members of our community are facing systemic injustice and inequity. That must end.
We can't solve all the challenges our community and country now face, but we can determine what kind of company Duquesne Light will be and what part we will play in our community. Our goal for our workplace and our community is to be a place where every person has an equal opportunity to contribute their incredible gifts, to make a difference and to achieve their full potential. When everyone feels safe, respected and valued for who they are, we will be a better place and a stronger company for our customers.
To start, we are listening to our employees and building on our partnerships with local groups like Vibrant Pittsburgh and YWCA of Greater Pittsburgh's Center for Racial and Gender Equity to identify where we can improve and how we can have a positive impact.
Earlier this week, we hosted discussion forums with our team, and will continue to do so to ensure each voice and experience can be heard and valued. I asked the 1,600 employees of Duquesne Light to join me in recommitting to the hard work necessary to move forward. It will involve hard conversations, difficult realities, and real personal reflection and commitment to our future. But it must also always come with respect for each other, fairness and understanding. We hope you'll join us.
We are in this together, and together we can make all the difference.