26 Graduate from Duquesne Light's EDT Program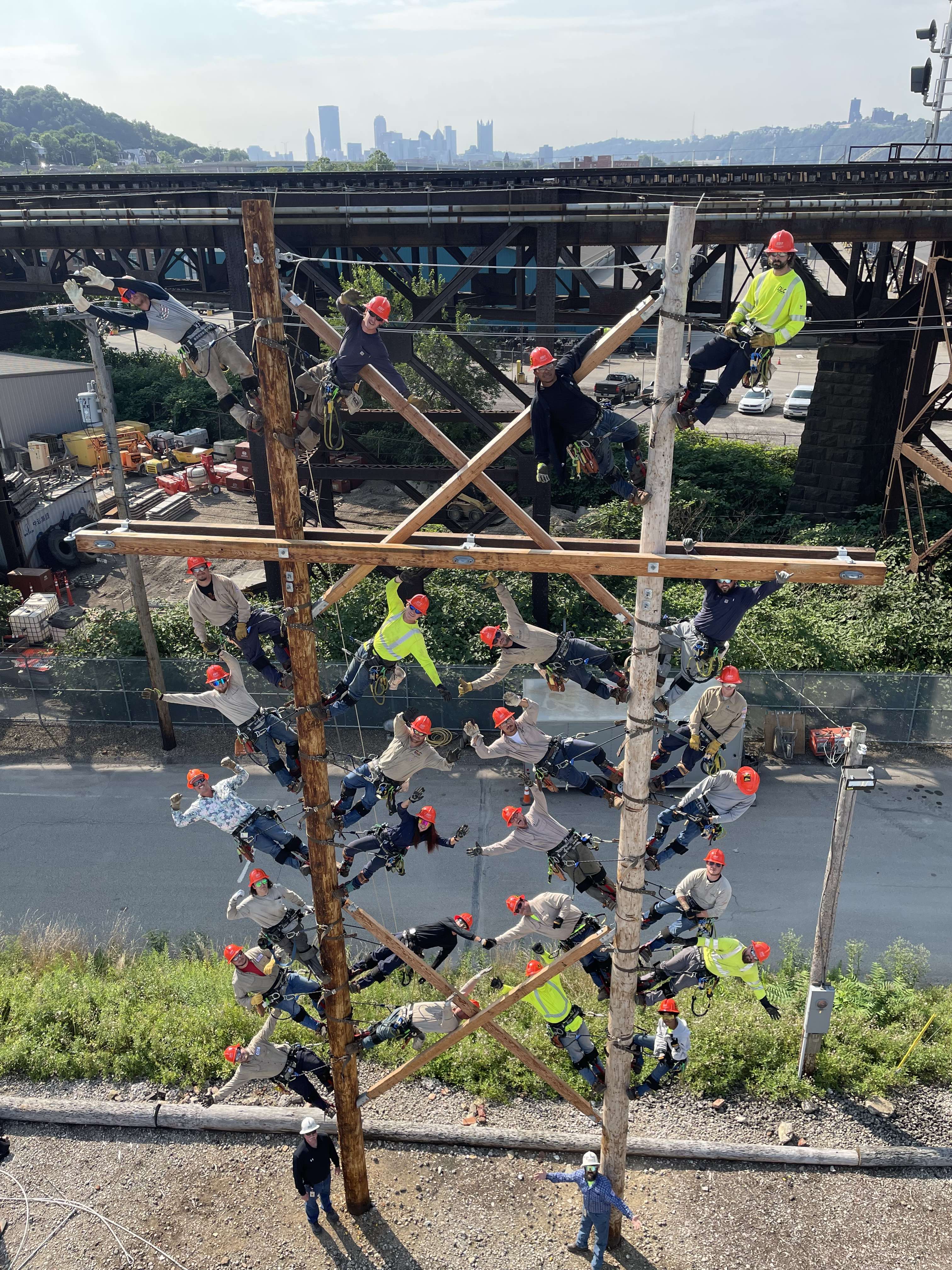 August 4, 2021
Duquesne Light Company (DLC) has announced its latest class of graduates from the esteemed Electric Distribution Technology (EDT) program.
On July 23, DLC hosted a graduation ceremony to celebrate 26 students who successfully completed the program, which focuses on entry-level skilled craft positions associated with the electric utility industry. The courses are in partnership with the Community College of Allegheny County (CCAC).
"DLC and CCAC's EDT Program is a rigorous training and we're proud of each program participant who made the commitment to spend the past year learning the lineworker trade," said Katy Rittle, who manages DLC's workforce development.
Through this nine-month, accelerated 44-credit certificate program, students learn the skills required for entry-level roles such as apprentice lineworker, senior operator, underground splicer and distribution operations center supervisor.
Most of the students assisted with setting poles, worked as flaggers for traffic and learned the proper tools to gather for assignments among other tasks.
"Learning the ins and outs of safely providing power to our communities is no small task," Rittle added. "We're grateful to participants and the dedicated staff that commits to creating out future workforce."

Congratulations to the 2020-2021 EDT Program graduates: ​ ​ 
 Christopher Altman 
Jordan Cappetta 
Jonathan DeHart 
Christopher Felock 
Samuel Ferrier 
Dylan Frye 
Hayden Hennen 
Jack Hudak 
Robert Keller 
Tobin Kelly 
Samuel Klimko 
Noah Linderman 
Justin Mckinney 
Cal Miller 
Bryan Mitchell 
Robert Moore 
Donald Mudric 
Lexie Nowakowski 
Nicholas Nyman 
Jacob Posey 
Shalaya Pringle 
Joel Redinger 
Trevor Valentic 
Anthony Weil 
Jordan Woodhouse 
David Yurchak 
Students in DLC's Electric Distribution Technology program learn the ins and outs of providing safe and reliable power.
About the EDT Program
The EDT Program began in 2002 and has since evolved into a one-year program in partnership with CCAC. The curriculum is completed almost entirely at Duquesne Light facilities and graduates earn a Certificate of Electrical Distribution Technology along with 44 credits toward a 64-credit associate degree from CCAC. ​ 
Following the EDT Program, several participants are offered apprenticeships to continue their training with DLC. 
Anyone interested in learning more about the EDT Program and selection criteria should visit the following link. 
A special thank you these DLC instructors who led participants throughout the program: ​ 
Dan Herbst, Journey Lineworker ​ 
Dave McKee, Senior Underground Splicer ​ 
Keith Meyer, Electrical Equipment Technician, 1/c 
Justin O'Toole, Senior Operator ​ 
Bob Pierce, Senior Lineworker, Workforce Development 
Chuck Rothhaar, Journey Lineworker ​ 
Justin Smith, Supervisor, Workforce Development ​ 
Rich Tankersley, Senior Operator 
Kevin Vespaziani, Supervisor, Workforce Development ​