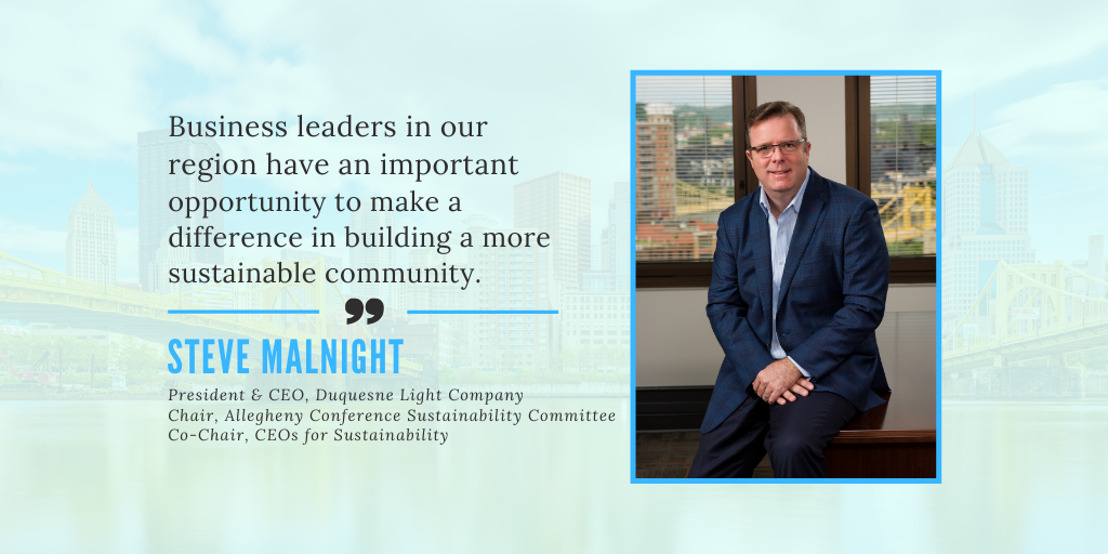 Duquesne Light CEO Steve Malnight to Champion Sustainability in Pittsburgh Region
Malnight to Co-Lead the CEOs for Sustainability executive council, hosted by Sustainable Pittsburgh, and Chair Allegheny Conference on Community Development's Sustainability Committee
PITTSBURGH – Steve Malnight, President & CEO of Duquesne Light Company (DLC), was recently named co-chair of CEOs for Sustainability, a cohort of CEOs from the region's leading companies that share best practices and collaborate in growing the ranks of those that reap the benefits of incorporating sustainability into their approach to business. The CEOs for Sustainability executive council is hosted by Sustainable Pittsburgh.
"We are pleased to welcome Steve as the new co-chair of CEOs for Sustainability," said Joylette Portlock, Ph.D., Executive Director of Sustainable Pittsburgh. "Steve brings a forward-thinking perspective that will certainly be an asset and aligns well with the CEOs' aim to drive positive change for the region."
Malnight, who also now leads the Allegheny Conference on Community Development's Sustainability Committee, will foster collaboration between the groups and ensure efforts are aligned towards the region's overarching sustainability goals.
"The Allegheny Conference on Community Development's Sustainability and Community Committee was formed to help carry out the organization's mission to improve the economic future and quality of life for the 10-county Pittsburgh region. Bringing together a cross-section of business, nonprofit, government, academic and philanthropic leaders, the committee established a set of sustainability principles that provide guidance for how the Allegheny Conference advances its regional vitality agenda," said Allegheny Conference CEO Stefani Pashman. "We're excited by the leadership, expertise and passion that Steve brings to bear as chair of this committee and look forward to the role he will play in shaping the future of our region."
Ronald Gdovic, CEO of WindStax Energy, will continue serving as co-chair of CEOs for Sustainability alongside Malnight. The two leaders are tasked with heading this executive roundtable, currently made up of the chief executives from over 40 participating companies representing more than 316,000 employees and $76.5 billion in total revenue.
Under Malnight's and Gdovic's direction, the roundtable participants will lead their companies by example and encourage businesses with operations in the Pittsburgh region to commit to progress on sustainable business practices. Companies making this commitment are assisted in implementing practices, as well as measuring and reporting on their impact.
"Business leaders in our region have an important opportunity to make a difference in building a more sustainable community," said Malnight. "For us to take advantage of the opportunities ahead, we all need to rise to this important calling together. Working together, we can strengthen the region's economy and our environment, while ensuring all members of our community participate in the benefits."
Duquesne Light is committed to creating a more dynamic, sustainable future for this community and encourages other companies and leaders to commit to progress. Those interested can learn more at CEOsForSustainability.org.
About CEOs for Sustainability
The CEOs for Sustainability executive roundtable is an outcomes-based leadership network for C-suite leaders to share best practices and collaborate in growing the ranks of those that enjoy the benefits of a triple bottom line — for people, planet, and profits. Participating companies represent more than $76.5 billion in total revenues and 316,000 employees. CEOs for Sustainability recognizes that prosperous businesses are at the foundation of a thriving, equitable region. CEOs for Sustainability is hosted by the nonprofit Sustainable Pittsburgh. More information at CEOsforSustainability.org.